Condolences & Tributes
We encourage you to share any memorable photos or stories about Audrey. All tributes placed on and purchased through this memorial website will remain on in perpetuity for future generations.
The Manente and Dal Grande Family
sent flowers to the family of Audrey Mary Jones (Lyon).
Send Flowers
Hello Beverley, So sorry that we were not able to attend the service in Orangeville yesterday for your Mom. My mother read the news in the Toronto Star and let us know. We all send our heartful condolences. Audrey was a really nice lady and friend to all of us. I always felt that she was a loving and supportive mother to you and I appreciated her for that. She also had many supportive and encouraging talks with me. I hope this message finds its way to you. I actually tried to find you a month or so ago. Have you moved from Bobecagean? I'm still in Hamilton and my Mom is still on Truscott Dr. We're all well! Please contact me if you can. With deep sympathy for the passing of Audrey, All our love Cathy Lowe, Jean Lowe, Neville, Shelley Heather, Tracey and Derryck
Cathy Lowe Hughes
- Thursday June 21, 2018 via Condolence Message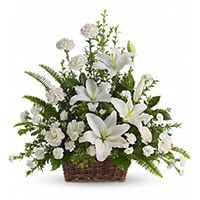 Much love from all of us.
Dear Bev: I am sorry for your loss. Although I never had the opportunity to meet your mother, I know she was a wonderful mother to you and that you were a devoted daughter. May you cherish the memories of the years with her and may God bless you and your family/
Karen Kerr
- Sunday June 17, 2018 via Donation
To: HEADWATERS HEALTH CARE FOUNDATION
Our thoughts are with you. Cherish the memories.
David Robertson and Cate Stevenson
- Friday June 15, 2018 via Donation
To: HEADWATERS HEALTH CARE FOUNDATION
So very sorry to hear of the passing of Audrey. She was an important member of my Mom's circle and the 2 of them kept up with all of the family information. One by one all of the Shelburne connection are gone. she will be missed.
Ted rosemary Cheri Tupling
- Wednesday June 13, 2018 via Condolence Message